I downloaded a new version (re-dowloaded) the software and I am prompt for a license.
If your trial license expired, you can reset it by removing the registry value HKCU\Software\actionstitch.com\ActionStitch\License and restart ActionStitch (right click the system tray icon and select Quit). After restarting ActionStitch, if the windows title says Trial Edition then it should be all good.
For macOS, run this command in Terminal:
defaults delete ~/Library/Preferences/com.actionstitch.ActionStitch.plist license

I've done this on Windows (10) with AS 0.9 and it does not seem to work. Any ideas?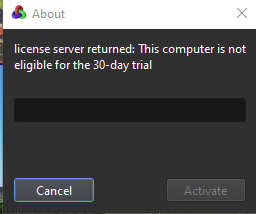 I just reset all trial licenses. Please restart ActionStitch again and it should work now.
I have the same issue, Computer is not eligible for the trial but I can't enter my purchased key and have that work either. On the key entry screen it tells me I have successfully entered the family license key, but it still tells me it is expired in the top left hand corner of action stitch
same issue. Also in my account the expiration date for the license is set to November 5th 2022, I just purchased it few minutes ago.
Sorry about the issue. This one was actually caused by a different bug in the license ordering system. I've manually adjusted your license and it should work now. You just need to enter your license code in the about dialog to activate it again.
this week I had another chance to record a match and test your software, but the trial is already expired.
i have tried to use the command above
defaults delete ~/Library/Preferences/com.actionstitch.ActionStitch.plist license

but I got an error
2022-11-24 07:55:47.370 defaults[1658:36278] 
Domain (/Users/b/Library/Preferences/com.actionstitch.ActionStitch.plist) not found.
Defaults have not been changed.

what is the reason for it, and is there a way to solve it?
thank you in advance
Check under /Library/Preferences/ to see if that plist file exists file, or any file starting with com. actionstitch.
However, I'll need to reset your trial license on our license server for that to work. Can you PM me your host name?
My trial version of AS doesn't actually give me any options to do anything

I can load left and right files and then Align Audio but that's it.
What do I need to do to get through the workflow to "Stitch" ?
Thanks
I guess you'll need to click the Sync button after which the Stitch button will be enabled. Please refer to the guide for explanation of the workflow: ActionStitch How to Guide
Did that already as I thought that might be the solution but, sadly, no joy
Did you select the camera models for both left and right videos? If you already did, post a screenshot of the window here.